1
The plaque (below bears a Polish Eagle
and is inscribed:-
<![if !vml]>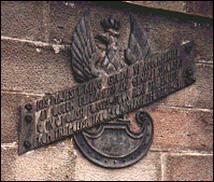 <![endif]>
His Majesty King George VI
accompanied by Queen Elizabeth
and General Sikorski C. in C. Polish Forces took
here the salute from the Polish Troops on
March the 7th 1941.
<![if !vml]>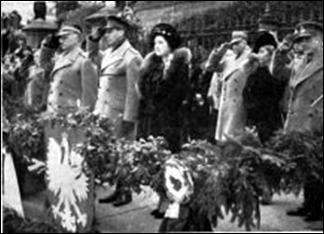 <![endif]>
The salute from the Polish troops
7th March 1941
2
In the town of Forfar in Angus there is a metal plaque to General Sikorski and the Polish troops commemorating the visit of King George VI and Queen Elizabeth to the town on 7th March 1941.
The metal plaque is located on a wall in Market Street below the Sheriff Court building.
It was here on the 7th March that the Royal Couple along with General Sikorski took the salute in the march-past of the Polish troops.
Another view of the march past of the Polish troops. The Royal Couple and General Sikorski can just be identified at the foot of the photograph.
Photo to be placed
3
Forfar in the early part of the war was the base of a number of Polish units including the HQ 10th Armoured Cavalry Brigade under General Maczek.
At this time the Polish Forces in Scotland's task was to guard the east coast of Scotland where they held the central sector.
---
Other Polonica
In the town there is also another plaque presented to the town by a Polish Army unit, the 10th Recce Unit which was based in Forfar.