<![if !vml]>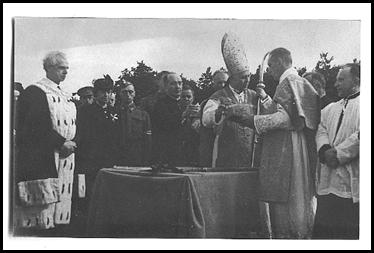 <![endif]>
1
On the 31st August 1940, in the town of Biggar new colours from the citizens of Glasgow were presented by the Lord Provost of Glasgow, (left in photo) Patrick Dollan to the Polish Army. Present at the ceremony were General Sikorski, PM and C-in-C of Polish Forces and President Raczkiewicz.
The Regiment saw this presentation as an act of Scottish-Polish friendship and particularly an act of friendship between the Citizens of Glasgow and the Regiment.
2
The students of the Needle-Work Department of the School of Art contributed to the making of the standard. The design featured a Polish Eagle and the Glasgow coat of arms. The old Colours of the Regiment had been destroyed in Warsaw in 1939.
The 9th Malopolski Lancers were formed in 1809 and later re-formed in November 1918 when Poland won back
her independence. The Regiment disbanded at the end of 1947. After the war the standard was laid up in the Polish Institute and General Sikorski Museum in London.
Image to add
3
On 11th November 1948, the Polish National Day of regaining of Independence, awarded their Honorary Regimental Cross to the City of Glasgow and this was received by Lord Provost McNeill.
4
Photographs of the presentation of new Colours in August 1940 may be seen at General Sikorski's Memorial House
in Glasgow- The Polish Social and Educational Society in 5 Parkgrove Terrace.